We are just over halfway through 2021 and for the last 18 months, real estate has been on a wild ride.
Let's Take a Moment to Look at Where the Industry Stands Now, and Where the Market Is Headed.
We looked to the Chief Economist at
NAR
(National Association of Realtors®) as well as Brian Buffini's
semiannual report
and local resources like
The Denver Post
to answer the most common questions consumers are asking.
Is This a Housing Bubble?
We are seeing some topping out in the housing market. While home prices are still breaking records, we are seeing higher levels of inventory in the marketplace from new construction AND new listings. And the number of transactions is approaching pre-pandemic levels.
Here is an article
from The Denver Post about the increase in inventory the Denver Metro market saw in June.
We should continue to see an improvement in inventory levels for two reasons. 1) More housing permits are being pulled by builders which is a clear indicator of inventory to come. 2) Mortgage forbearance programs are being phased out. N.A.R. is not predicting that these homes will go into foreclosure (because of strong market value) but rather they will become incremental listings that hit the market.
Back to the question - is this a bubble? The answer is NO. What we are seeing is more of a return to the normal seasonality. This market is very different than what we saw take place in 2007 - 2009, and here are some reasons why:
In 2007 we had 4x more inventory on the market than we have today
We no longer have the high-risk lending products that were widely used in the early 2000s
Down payments are 2x higher on average than they were two decades ago
When Is the Housing Market Going to Crash?
Core inflation
is rising at the highest pace in 30 years. What does that mean for real estate?
Rising Core inflation is an indicator that rents will increase and N.A.R. forecasts we will see 4%-7% increases in 2022. The Denver Post published an article last week with the headline "Colorado rents surge in June as demand for apartments ramps up". You can read the full article
HERE
. A fixed asset with a fixed payment, like a home, is one of the greatest hedges against inflation. This means demand for homes will remain strong and there is no indication a crash is coming.
N.A.R is still predicting an increase in home prices in 2022 though we may not see the double-digit percentage increases we experienced in some markets over the last 12 months.
Why Is the Housing Market So Hot?
In addition to rising inflation and rising rents, the pandemic brought us supply chain and labor challenges that impacted the number of available new construction homes. We also saw the housing market shut down for several months while home showings were not allowed. That created pent up demand and Seller apprehension. Lastly, motivated Sellers weren't able to identify a replacement property so the cycle of the inventory shortage continued. Pair all of that with the record low-interest rates you've got the perfect storm.
What to Expect for Buyers
What to Expect for Sellers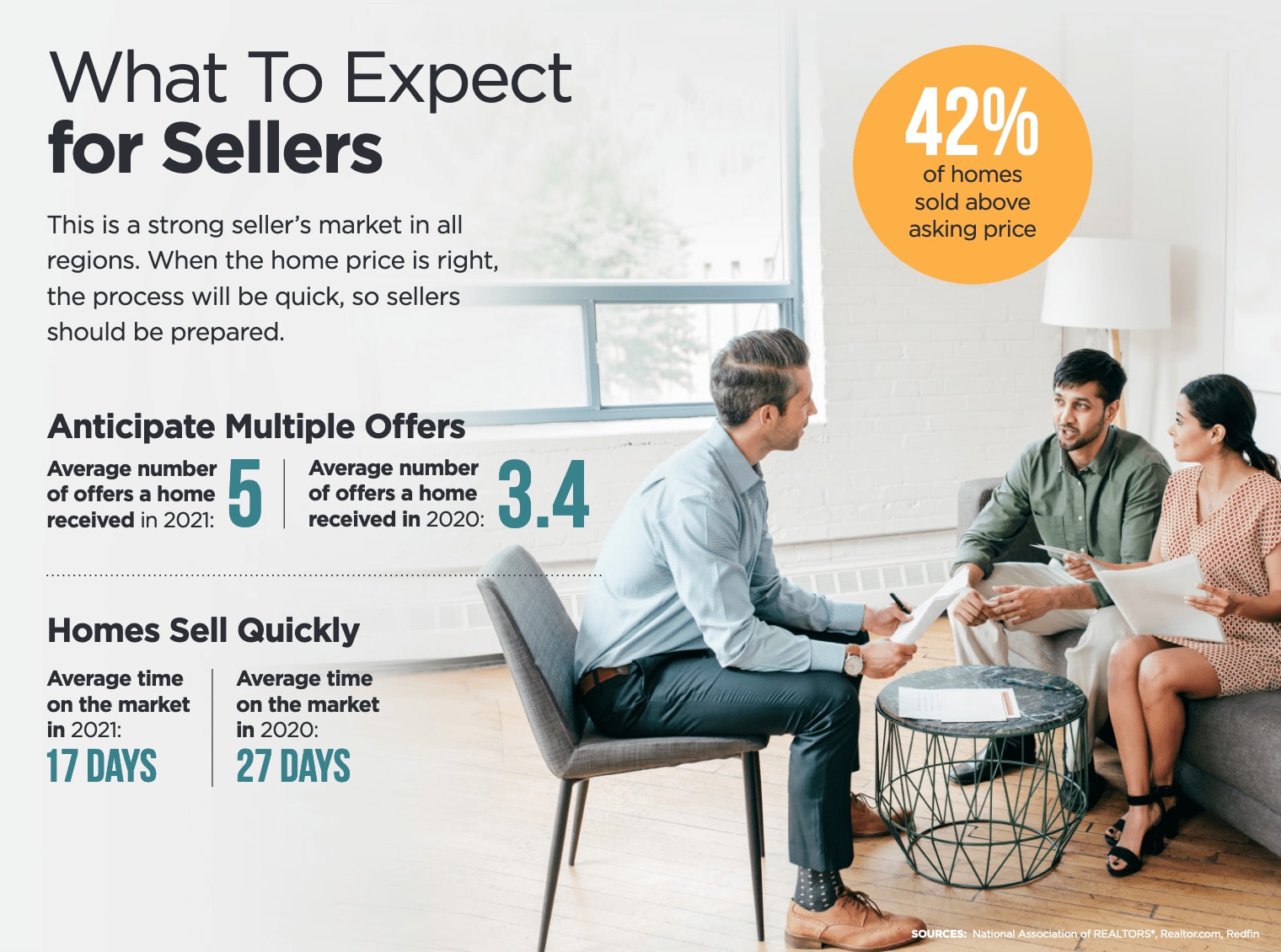 As you know, we have many micro-markets in the Denver Suburbs and these statics along with home values can vary greatly from neighborhood to neighborhood. If you are curious about the market in your area and which factors are impacting home values the most, just reach out. We are always here to help. You can reach us at
[email protected]
.